Tivat




1. Residential building on the cadastral parcels 931/1 and 931/2, KO Tivat, DUP "Lastva-Seljanovo-Tivat-Gradiosnica"
- Designer: "ING-INVEST" d.o.o. Danilovgrad
- Contractor: MD MOMO LLC - Berane
- Building will be purpose-built for the "HTP Mimoza" a.d., Tivat

- GBA: 1,758.22 m²
- Number of floors: B + GF + 3F + A
- Number of housing units: 20
- Number of Garages: 8
January 2014 - Occupancy permit is obtained and the building is moved in.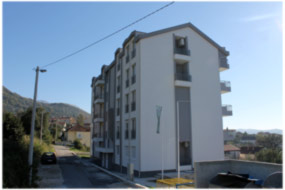 2. The Municipal Parliament of Tivat has allocated a plot on the cadastral parcels 244 and 255, KO Radovici in Tivat to the Municipal Trade Union Commission.
- Registration of the plot in the name of CFSSI is in progress. After obtaining urban and technical requirements, a public tender for the selection of designers will be announced.