Berane



According to the Agreement on Transfer of Rights and Obligations, CFSSI has taken over from the Municipality the construction of the building, which was started in cooperation of the Municipality with the organization "HELP". Building contains 24 housing units, ground floor plus two floors, and it is intended for resolving housing issues of the Municipal employees.

Residential building on the cadastral parcel No. 1369/5, "Park 7", buildings B and C

- Number of housing units: 90 (Building B – 45 apartments and Building C – 45 apartments)
- Number of floors: GF+8F+A

- Designers: "BEOPLAN" – Beograd and "ARHINGINZENJERING" d.o.o. – Bijelo Polje
- Contractor: "MD MOMO" d.o.o. – Berane
- Supervisor: "ARHINGINZENJERING" d.o.o. – Bijelo Polje
- September 2010: Signing of Purchase Agreements is still in progress. Several different purchase options are available, as follows:
• By cash
• By credit – via Erste Bank, which already signed the Agreement on Business Cooperation with the Fund, or via bank of a customer's choice
• By leasing model with down-payment of 30% and regular payments for up to 20 years
• By annual rent payments with an option to purchase the apartment
- October 2010: The building was completed. Its registration procedure, as well as procedures for obtaining certificates of acceptance and occupancy, are in progress.
- On 1st November, a ceremonial delivery of keys was organized as well as moving of tenants into the building.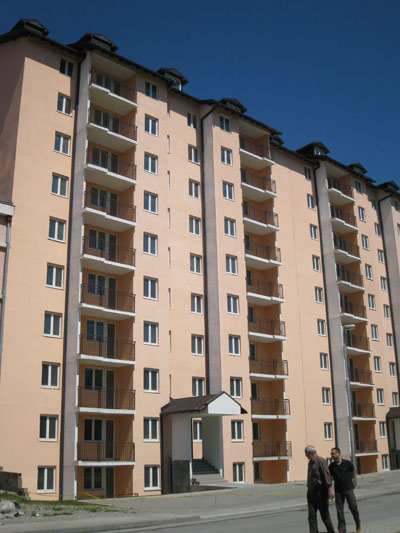 photos

Pogledajte kratak video zapis