The Conference
"Western Balkan Social Housing Initiative"
8 and 9 July 2010 in the Podgorica Hotel in Podgorica, Montenegro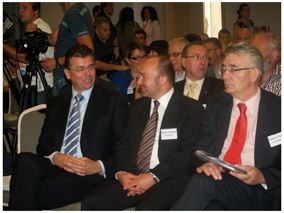 Affordable housing has become an even more important issue during and after the economic crisis. The Montenegrin Fund for Solidarity Housing Development (CFSSI) with support of IIBW – Institute for Real Estate, Construction and Housing Ltd. (Vienna) and other international partners have developed a promising new approach for the provision of affordable (rental) dwellings and the execution of State social housing policy. Three pillars are regarded essential for this new approach: sound legal regulations (PPP housing), a financing scheme that allows for rents of
2 to 3 €/m² and an institutional setting (social partnership model). CFSSI has realized already approx. 500 affordable owner-occupied and rental dwellings, ca. 2,000 are in preparation. We are well on the way to establish a social housing sector covering all Montenegro.

Therefore, a conference having such a topic was organized, as a joint effort of CFSSI, IIBW and the Ministry for Spatial Planning and Environment of Montenegro, in order to present this innovative model of CFSSI based on the social partnership of Government, trade union and employers that proved to be very successful in Montenegro, since this positive Montenegrin experience seemed feasible for implementation in countries with similar background.

The conference was attended by representatives of five Western Balkan countries, another three CEE countries, several Western European countries and international organizations. We appreciate particularly the participation of CECODHAS, the European Liaison Committee for Social Housing. CECODHAS supported our conference as a possible starting point of national social housing sectors in the region.

The two-day Conference had the following agenda:

Thursday 8 of July, 14:00

| | | |
| --- | --- | --- |
| | | |
| Branimir Gvozdenović | Martin Pamer | Predrag Mitrović |
The conference was opened by Branimir Gvozdenovic, Minister of Spatial Planning and the Environment in the Government of Montenegro, his Excellency Martin Pammer, Ambassador of Austria and Predrag Mitrovic, President of Montenegrin Employers Federation. The first day was dedicated to the political significance of PPP housing in the region with keynote speeches of Danilo Popovic, President of Board of Directors of CFSSI, and Claire Roumet, Secretary General of CECODHAS, followed by country reports on social housing policy from all participating countries and an open discussion.
| | |
| --- | --- |
| | |
| Danilo Popović | Kler Rume |

Friday 9 of July, 9:30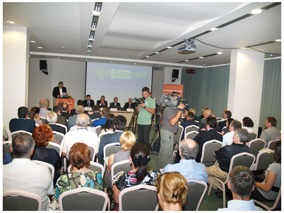 The second day focused on the financial and regulatory framework for PPP housing with presentations of Boris Mihailovic, Executive Director of CFSSI, Wolfgang Amann, Director of IIBW, Damir Pahić and Sergii Yampolskyi from UNECE, Robin Comanne from Housing Matters, Jan de Vletter from DIGH – Dutch International Guarantees for Housing, followed by an open discussion on the implementation of PPP housing in Western Balkan countries and a summary note of Walter Schwimmer, IIBW, former Secretary General of the Council of Europe.
In the afternoon, all the interested participants of the Conference had the opportunity to take part in a study tour to CFSSI housing projects in Podgorica, Cetinje and Budva.

The conference had several concrete outcomes:

The establishment of a Western Balkan Social Housing Network is considered:

The Network may be a regional approach driven by local stakeholders in social housing, newly established social landlords or social partners (Federations of Trade Unions, Federations of Employers, governments) in other countries of the region. It shall transfer knowhow between the members and from Western European best practice. In this function it shall support members in the establishment of social housing organisations in the respective countries, complemented by support in political awareness building and the adoption of legal regulations. A regional approach will help social housing on Western Balkans to be well represented on a European level, e.g. in CECODHAS. Such a regional approach may become a signal towards Europe on growing convergence on Western Balkans.

Single countries represented at the conference have expressed their interest to establish social partnership models for social housing, following the model of CFSSI. CFSSI and IIBW have expressed their willingness for support.

Possible CECODHAS initiatives:

CECODHAS was represented by the Secretary General Mrs. Claire Roumet. It represents all European national social housing organizations on a European level. New EU member and candidate States are presently underrepresented as after transition social housing was no political focus in those countries. It is recommended to CECODHAS to establish a regional group on Western Balkans within its structures.

Possible UNECE initiatives:

The United Nations Economic Commission for Europe was represented by Damir Pahić, the chairman of the Working Party of Land Administration, Sergii Yampolskyi from the Committee on Housing and Land Management and Wolfgang Amann, presently chairman of REM, the Real Estate Market Advisory Group of UNECE. UNECE may support building up of social housing sectors in the region with organisation of events or the provision or update of country reports, always following invitations from the respective countries.

Translation of the REM/UNECE "Policy Framework for Sustainable Real Estate Markets":

The Real Estate Market Advisory Group (REM) of UNECE has currently published these helpful guidelines. Translations in several languages are already on the way. Translation to Montenegrin language would make this document available for the whole Western Balkan as a single language area.

Regional initiative for a graduate education in real estate:

The real estate and housing sector in all Western Balkan countries is lagging behind. There is evidence in many Western countries that the implementation of respective graduate courses may strongly improve the situation within a relatively short period of time. The implementation of such graduate education will lead to professionalization of the real estate sector. At the same time such an institution may become a focal point of future scientific, economic and political development of real estate sectors in the region.

Creation of literature:

Previous achievements and further challenges may be strongly supported by scientific examination. International researchers shall be motivated to work on the housing sector in the region, aiming at publishing in referred international journals.

The Conference was evaluated as very successful, both by its organizers and participants. We believe that the social housing policy model developed by our Fund may serve as best practice model to all countries in the region. We also believe that establishing affordable housing schemes in Western Balkan countries can be an important step towards Europe.